September 28, 2017
We are excited to invite community and tribal domestic and sexual violence program members to the Idaho Coalition's bi-annual
Compassionate Communities: We Choose All of Us
conference on Tuesday, November 28th – Wednesday, November 29th in Boise, Idaho.
Join us for our two-day conference and envision a world where everyone is valued, everyone is safe, and everyone can thrive! Together we will create a collaborative space for social services and social change to come together to explore ways to repair the harm from gender violence – abuse and rape, and our culture of domination, extraction, and violence. We will re-imagine how to move toward a world rooted in interdependence, resilience, and regeneration.
We want you to be part of this amazing learning opportunity! We are offering travel costs for up to four tribal and community advocates to attend from outside the Boise area depending on the number of staff employed by your program. For tribal or community programs with less than 10 full time staff, we can pay for the travel costs for two persons and for programs with more than 10 full time staff we can reimburse for up to four persons. We encourage you to ride together and share hotel rooms to allow as many advocates to attend as possible. We are looking forward to being in community to learn ways to integrate social services and social change – from increasing access for Latinx survivors to the understanding the impact of immigration status and domestic violence to historical trauma and culturally responsive services for Indigenous survivors and their families. On Wednesday, November 29th we will be having our Annual Meeting as part of the luncheon program.
Here's speakers representing many powerful voices, creative insights, and passionate activism!
adrienne maree brown – is a writer, facilitator, and activist living in Detroit. In 2017, she published Emergent Strategy: Shaping Change, Changing Worlds which has already shifted movement thinking locally and internationally. She is the is the co-editor of Octavia's Brood: Science Fiction from Social Justice Movements and a regular contributor to national publications, task forces, and coalitions. adrienne is obsessed with learning and developing models for action, community strength, movement building and transformation.
Amita Swadhin, MPA – is an educator, storyteller, activist and consultant dedicated to fighting interpersonal and institutional violence against young people stemming from their experiences as a genderqueer, femme queer woman of color, daughter of immigrants, and years of childhood abuse by their parents, including eight years of rape by their father. Amita is founder of Mirror Memoirs, formerly at Los Angeles Executive Director of Peer Health Exchange and Interim Executive Director of API Equality-LA, building power in the Asian and Pacific Islander community to achieve LGBTQ equality and racial and social justice.
Andrew Sta. Ana, J.D. – coordinates Day One's direct legal services program and provides advocacy and direct representation in cases concerning family law, immigration, and criminal justice, Andrew works to protect the rights of young survivors. His practice emphasizes community partnership, cultural competency, and an analysis that centers the experiences of youth and survivors of intimate partner violence. Andrew has enriched the work of advocates around the country by training thousands on legal remedies for survivors of intimate partner violence, LGBT rights, and cultural competency.
Archi Pyati, J.D. – is the Chief of Policy and Programs at the Tahirih Justice Center, leading national advocacy initiatives and mobilizing diverse coalitions to press for laws, regulations, and policies that better protect immigrant women and girls from violence. She oversees Tahirih's holistic legal services programs, serving more than 1,400 individuals per year and supports Tahirih's Forced Marriage Initiative. Prior to joining Tahirih, Archi served as the Deputy Director of the Immigration Intervention Project at Sanctuary for Families in New York.
Heidi Lehmann, M.P.H– is leading the Lehmann Group, which works toward a world where women and girls can be safe from all forms of violence. She has worked in the worst conflict zones and natural disasters in recent history including Sierra Leone, Liberia, Darfur, Democratic Republic of Congo, Northern Iraq and Haiti. Most recently she was Senior Director of the Women's Protection and Empowerment Unit at the International Rescue Committee and taught a course on Gender Based Violence in Complex Emergencies at Columbia University's Mailman School of Public Health.
Judith LeBlanc– is the director of the Native Organizer's Alliance and has been an organizer, journalist, and public spokesperson on issues of economic, social and racial justice for four decades. In the early 1970s, Judith worked on behalf of the Wounded Knee Defense/Offense Committee at Pine Ridge Indian Reservation in South Dakota. In 2002, Judith became a national recognized organizer and leader in the U.S. peace movement as a national co-chair and elected leader of the United for Peace and Justice and as National Field Director of Peace Action. Judith is an enrolled member of the Caddo Tribe of Oklahoma.
Nadiah Mohajir, M.P.H. – is the Founder and Executive Director for HEART Women & Girls, leading the organization to provide health education programming to over 5000 Muslim women and girls in Chicago and across the country, breaking many cultural barriers and raising awareness about important issues such as sexual and reproductive health, and sexual violence. Nadiah has been a consultant for the Office on Women's Health (at the U.S. Dept. of HHS, focusing on minority health. Prior to her work at OWH, Nadiah worked on a research project focusing on improving pregnancy outcomes of low-income women.
Patina Park, J.D. – is Lakota and her family comes from the Cheyenne River and Standing Rock Sioux Tribes. Because of her own experiences as an adoptee, Patina is passionate about issues related to Native American children and families and has led trainings nationwide related to Federal Indian Law, ICWA, historical trauma, and implementing trauma-informed, culturally-responsive programming. Patina Park is currently the Executive Director of the Minnesota Indian Women's Resource Center, a nonprofit grounded in cultural strengths to heal, preserve, and strengthen Native American women and their families from the multi-generational and historic trauma experienced from the effects of colonization.
Dr. Robin DiAngelo – is a former Associate Professor of Education with her scholarship in White Racial Identity and Race Relations. Robin has extensive experience as a workplace consultant in issues of race relations and racial justice. She has numerous publications and books, including, "What Does it Mean to be White?": Developing White Racial Literacy. Her work on White Fragility has influenced the national dialogue on race and been featured in Salon, NPR, PBS, The New York Times, The Atlantic, Slate and Colorlines.
Rosie Hidalgo, J.D. – is currently the Senior Director of Public Policy for Casa de Esperanza: National Latin@ Network for Healthy Families and Communities, a national domestic violence resource center providing training, research, and policy advocacy. She also works as a Senior Policy Advisor for the National Resource Center on Domestic Violence. Rosie previously served as the Deputy Director for Policy at the Office on Violence Against Women (OVW) at the U.S. Department of Justice. Prior to joining OVW, Rosie served on the ABA Commission on Domestic and Sexual Violence from 2010-2013.
Sameera Qureshi, M.S. – is an Occupational Therapist who Sameera working with HEART Women and Girls since 2012 to facilitate sexual health education initiatives within Muslim communities across Canada. Her areas of interest are in curriculum and program development, community needs assessments, facilitation of trainings with adults and youth, and supporting institutions in creating policies and procedures regarding sexual violence. Sameera maintains a blog called "Muslim Sistah" and can be found on Twitter @muslimsistah.
Vanessa Sapien, M.A. – has worked as a film and television actress for over twenty years fighting for accurate portrayals of people with disabilities in media. Vanessa is a member of Just Detention International's domestic programs team. She provides training and technical assistance for corrections staff, advocates, and service providers on how to keep prisoners safe from sexual violence. Vanessa currently offers direct services to incarcerated survivors of sexual abuse.
We are looking forward to expanding our learning to better reach survivors of domestic and sexual violence and hope you are too! Registration will be open next week on October 1st.
We Choose All of Us,

Kelly
Strangulation and Lethality in Domestic Violence Cases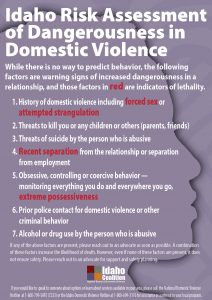 This year for Domestic Violence Awareness Month, the Idaho Coalition highlighted the risk factors for future dangerousness and lethality in domestic violence cases on our awareness poster.
One of these lethality factors, strangulation, is often overlooked by those of us who are providing advocacy to individuals who are impacted by domestic violence.
As advocates, we may believe that if a victim experiences strangulation, it is an experience that they will share with their advocate. However, we know that victims of domestic violence often do not disclose they have been strangled by their partner. Sometimes, as advocates, we will ask about strangulation but we may not use terms victims can relate to or we fail to ask follow-up questions that can help us determine the level of intervention that is needed. Questions that can help us determine what occurred is "at any point in time during the incident, did you have difficulty breathing?" This often covers instances where the offender may have put a pillow over the individual's face, pressed a knee into her chest while she was lying down, or pressed his forearm into her chest as he pressed her against the wall?
Strangulation is a lethality factor and we know that the signs and symptoms of strangulation are often not immediately apparent. In less than 22% of instances of strangulation are there physical symptoms. In 78% of cases, there are no physical signs. But even if there are no physical signs, a victim is still in physical danger. Strangulation often leads to burst blood vessels. While this often appears as petechiae – burst blood vessels in the eyes or in the lips, it can also lead to burst blood vessels in the brain- a stroke. That stoke may occur hours or even days after the strangulation. As such, it is vital that as advocates we are providing individuals who have been strangled with medical advocacy options. Individuals who have been strangled should be seeking medical attention at an emergency room, where the equipment is available to document and provide treatment. A local physician or health district can also provide medical care, though not on the same level as an emergency room may provide.
Bottom line: as advocates, we need to ensure individuals who experience strangulation are provided with adequate medical care. Many victims will be reluctant to seek medical attention and it is important that we provide her with information about the potential effects of strangulation, as well as options for seeking medical care.
For more information about strangulation, please contact Jennifer Landhuis
Idaho Thriving Families
Mercedes Muñoz and Melissa Ruth presented on the important work Idaho domestic and sexual violence programs are doing at the National Conference on Health and Domestic Violence in San Francisco on September 28th. "Integrating Promising Practices and an Anti-Oppression Framework to Center Solutions on Underserved Parents and Their Children Who Have Experienced Abuse" highlights statewide efforts to be truly accessible and relevant for underserved families. If you'd like to learn more about Idaho Thriving Families, reach out to Mercedes or Melissa anytime at Mercedes@engagingvoices.org or Melissa@engagingvoices.org.
DVAM Activities and Campaigns Hosted by the National Resource Center on Domestic Violence
Check out this year's Domestic Violence Awareness Month activities and campaigns hosted by the National Resource Center on Domestic Violence!

Training & Events
Idaho Risk Assessment of Dangerousness Webinar
Wednesday, October 16, 2017 • 2:00 PM MT • 1:00 PM PT
The Idaho Risk Assessment of Dangerousness was developed ten years ago through the Idaho Coalition in partnership with key stakeholders in the criminal justice system and community domestic violence providers. Idaho law enforcement, prosecution and judicial systems as well as community-based advocates have been using this tool to inform survivors of their risk of future harm as well as indicators of lethality as part of safety planning. The tool has also been used to assess the level of intervention needed by the criminal justice system to enhance safety and by the courts to determine conditions of release. An unexpected use of the tool has been in civil domestic violence cases in the determination of issuance of civil protection orders and for custody decisions.
An initial study of the Idaho Risk Assessment of Dangerousness recently conducted by Boise State University found that the "overall IRAD risk score appears to be a significant predictor of future intimate partner violence behavior."
Join us for a discussion regarding the use of IRAD in your communities.
---
SAVE THE DATES: Regional Learning Communities – Fall 2017
Learning communities will be held in the following communities:
October 23rd: Eastern Idaho Regional Learning Community – Pocatello
October 24th: Southwest Idaho Regional Learning Community – Boise
October 25th: Northern Idaho Regional Learning Community – Coeur d'Alene
Please register here and help cocreate our time together.
---

Tuesday, November 28 – Wednesday, November 29, 2017
Boise State University, Student Union Building, Boise, Idaho
Compassionate Communities: We Choose All of Us is a two-day conference where we will envision a world where everyone is valued, everyone is safe, and everyone can thrive. Together we will create a collaborative space for social services and social change to come together to explore ways to repair the harm from our culture of domination, extraction, and violence and to re-imagine a world rooted in interdependence, resilience, and regeneration.
Registration opens October 1st on www.engagingvoices.org.
Idaho Coalition Store Materials
Reminder that shipping for all material orders made by Programs on the Idaho Coalition website store is FREE of cost, please use the below coupon for all orders.
Visit the online store to view current Idaho Coalition materials available for order. For store questions, please contact Lacey Sinn.
Coupon Code
Membership