August 3, 2017
Last week,
Idaho State Police released a new state analysis
that found only 4 percent of reported rapes in Idaho result in a guilty conviction of a sex crime, far below the national estimates ranging between 14 – and 15 percent.
Sadly, the report released reflects the truths we hear from girls and women and people who are gender nonconforming who are survivors of sexual assault across Idaho. The report found that individuals who are sexually assaulted or raped are usually female and under the age of 18, affirming the urgent need for all of us to continue our efforts to reach girls in middle school and high school.
"Sexual violence is a prevalent concern in Idaho with a significant fiscal impact. Results indicate that reports of sexual violence take almost ten times longer to investigate, and are nearly half as likely to result in arrest, charges being filed, and a guilty conviction." According to the data analysis, rape charges in Idaho are the most likely to be amended or modified to a lesser offense compared to other sex crime charges.
The report studied crime data between 2009 and 2015 using court and crime incidents collected by the state. Idaho State Police researchers only analyzed reported cases of sexual violence – important as estimates of 67 – 90 percent of rapes and sexual assaults are not reported to the police. Out of the 8,452 sex crimes reported between 2009 and 2015, 3,269 of those were reported rapes. Police made arrests out of 20 percent of those rape charges. Eventually, that number dwindled to 8 percent cases concluding with a guilty conviction with 130 seeing a guilty conviction for an actual sex crime.
We know that we have a culture that devalues women and girls and individuals who are gender nonconforming, especially those from historically marginalized communities-individuals with disabilities, individuals marginalized by their racial or ethnic identities and individuals who identify as lesbian, gay, bisexual or transgender.
This culture is reflected in our criminal justice system, where survivors of sexual assault are often met with disbelief and suspicion when reporting a sexual assault. We must continue to lift up the voices of the thousands of girls, women and individuals who are gender nonconforming who experience sexual assault in Idaho and do not have a system to access for the justice and accountability they so rightly deserve. Over the last few days, over five hundred people reacted to the Idaho Coalition's Facebook posting on this report, with almost 100 people commenting, many survivors of sexual assault or rape who shared their personal stories on how our culture and criminal justice systems failed to provide justice or accountability for themselves or someone they loved.
We must both improve our criminal justice system response to sexual assault by addressing implicit bias and discrimination and continue to envision solutions beyond the criminal justice system. We must endeavor to create communities where women and girls and individuals who are gender nonconforming feel valued, feel safe and have the ability to thrive.
In Solidarity,

Kelly and Jennifer
Idaho State Police Forensics Services Sexual Assault Kit Tracking Database
The Idaho Coalition has been participating in the Sexual Assault Kit Committee, a project of the Idaho State Police Forensic Services division. This committee supported the work of Representative Melissa Wintrow and H146 which went into effect July 1, 2017. H146 amended Idaho Code to provide that a victim of sexual assault should not be denied a forensic exam due to inability to pay, addressed the retention of sexual assault evidence kits and outline written victim notification regarding sexual assault kit status.
The legislation outlines that in all felony cases, including anonymous sexual assault kit collection, evidence must be retained for 55 years. In cases where law enforcement believe no crime has been committed or when an adult victim indicates they do not want the kit tested, then the evidence must be retained for ten years. If a victim has provided written notification to law enforcement and provided the agency has current contact information for the victim, the law enforcement agency must provide victims with notice of the pending destruction of a kit or other evidence. The law also dictates that victims should also be notified of when the kit is submitted to the lab, when any evidence sample DNA profile is entered into the Idaho DNA database, when a DNA match occurs or when there is a change in status in the case.
To address these notifications, the Idaho State Police Forensics Services has created a sexual assault kit tracking database. Victims can access this database as long as they have the serial number of their sexual assault kit. None of the information in the database has personally identifying victim information, it only contains the serial number of the sexual assault kit. Advocates can assist victims with this tracking system by accessing the database on the Idaho State Police Forensic Services page.
The Idaho Coalition is excited to be part of these efforts, working towards creating a more victim-centered approach to sexual assault cases going through the criminal justice system. The work of this committee will continue over the next few years- stay tuned for more information! If you have any questions about the kit tracking, please contact Jennifer Landhuis.
Funding Opportunity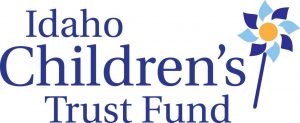 Idaho Children's Trust Fund Annual Grant Announcement Project Period: November 2017 through November 2018
The Idaho Children's Trust Fund offers grant funding, within $1000 – $5000 range to programs that seek to prevent child abuse and neglect by increasing protective factors in order to strengthen families and promote child well-being.
Timeline:
July 12, 2017 Annual Application packet posted on ICTF website
September 8, 2017 Annual Grant Applications due to ICTF
October 20, 2017 Annual Grant Award Decisions
November 20, 2017 New Annual Grantee Project Start Date
November 19, 2018 Project Period Ends
Introduction
The Idaho Children's Trust Fund would like to invite you to apply to our 2017-2018 Annual Grant Cycle. Established by the Idaho Legislature in 1985, ICTF's mission is to support efforts designed to prevent child abuse and neglect within the state. Our vision is to live in a world where all children are valued and have the opportunity to thrive.
We are requesting grant proposals from all over the state for programs intended to prevent child abuse and neglect. Eligible programs must be located in the state of Idaho or provide services to Idaho residents. Grants are available to public or private nonprofit, faith-based, government agencies, or qualified individuals who provide community based educational or service programs.
Core Considerations
Grant proposals will be considered based on the degree to which it addresses one or more of the following factors:
Does the program seek to prevent child abuse and neglect by building on family strengths and resiliency?
Does the program partner with parents to help build strong, healthy families?
Does the program intentionally address child neglect or look at factors most identified with child neglect: history of trauma, poverty, maternal depression, substance abuse, or devaluing challenges of child rearing?
Does the program intentionally reach out to underserved populations such as rural communities, communities of color, and homeless families?
Does the program utilize the strengthening families framework and work to build one or more of the following protective factors into a child's life and family:

Parental Resilience
Social Connections
Concrete supports
Knowledge of Parenting and Child Development
Social and Emotional Competence of Children (including nurturing and attachment)
How to apply
Send one copy of application electronically to Taryn.Yates@ctf.idaho.gov by 5:00 pm on Friday September 8, 2017
Tips

Be sure to read all the information on the Idaho Children's Trust Fund website under Grants and Awards – Annual Grants Program and in the application thoroughly.
Contact ICTF Grant Manager, Taryn Yates for questions or support at Taryn.Yates@ctf.idaho.gov or call 208-386-9317.
View application on the Idaho Children's Trust Fund website.
Training & Events
Youth Organizing Workshop Summer Schedule
HIGH SCHOOL
We Choose All of Us: Youth Organizing for Social Transformation
August 22nd 5:30-8:30 PM • The Linen Building • Boise, ID
Come together with youth leaders to engage in transformative conversations to create social change! Join the youth movement in Idaho and be part of a network of youth leaders who reflect our diverse identities and backgrounds! Build skills, knowledge and resources to support organizing in your school or community.
Register here
HIGH SCHOOL and MIDDLE SCHOOL/JR. HIGH SCHOOL
Re-imagining Ourselves: Gender and Our Cultural Stories
August 8th 1:00-4:00 PM • The Linen Building • Boise, ID
Explore roles in cultural folklore (Latin America, Polynesian Islands, and Africa) of girls and women of color and people who are gender non-conforming. Learn the real stories, and re-imagine these stories through art and writing to create social change. Learn how to organize at school and in your community
Register here
ADDITIONAL WORKSHOPS OPPORTUNITIES
#RepresentationMatters: Youth Digital Organizing
From Mad Men to Teen Vogue and Beyoncé, we will explore the evolution of gender issues in popular media. Join us in re-thinking how we want gender to be represented and empower communities. Learn how to organize and initiate a media campaign: social media, PSAs, and more!
If you want assistance hosting a workshop in your community, please reach out to Jennifer Martinez.
---
ABA LGBT+ Legal Access FREE Training
August 29th-30th 9:00-5:00 PM • The Linen Building • Boise, ID
The American Bar Association and the U.S. Dept. of Justice Office on Violence Against Women in partnership with the Idaho Coalition Against Sexual & Domestic Violence invites you to a the LGBT+ Legal Access training on August 29th – 30th in Boise, Idaho. LGBT+ victims are frequently dissuaded from seeking and obtaining protection under the law. Are you a civil attorney hoping to improve your provision of services? Are you an advocate looking to develop best practices when working with LGBT+ survivors? Are you a prosecutor seeking support in investigating and charging an LGBT+ domestic & sexual violence case? Lunch will be provided. Please register soon, only 25 openings remaining.
As a result of this two day training and strategic planning institute, participants will be better able to:
Develop strategies that respond to the needs of LGBTQ victims of intimate partner violence
Provide tailored services to the specific needs of LGBTQ victims of intimate partner violence
Identify resources for LGBTQ victims of intimate partner violence in your jurisdiction
Idaho Coalition Store Materials
Reminder that shipping for all material orders made by Programs on the Idaho Coalition website store is FREE of cost, please use the below coupon for all orders.
Visit the online store to view current Idaho Coalition materials available for order. For store questions, please contact Lacey Sinn.
Coupon Code
Membership