April 14, 2016
The shared purpose horizon, created by many Idaho community and tribal domestic and sexual violence programs, re-imagines a world where everyone is free from domination and violence, a world where we understand our interdependence and recognize our humanity, a world where everyone can thrive and reach their full potential.
When we orient our work towards a shared purpose horizon, we can see significant shifts in our work. Over the last year, the Idaho Coalition has been making many of these shifts and has sparked major change. What does this change look like, feel like and sound like for our organization?
It looks like compassion where see each other in the entirety of our lived experience. It looks like campaigns which move beyond awareness of gender violence to address root causes of gender violence fueled by multiple systemic oppressions. It looks like state-level advocacy work that is beginning to address bias in the criminal justice system and the over-incarceration of juveniles and adults. It looks like aligning ourselves with social justice campaigns and legislative efforts for equal rights, accessible health care, housing and a live-able wage.
It feels like a community where we breathe low and s-l-o-w and move together through intentional physical practices like the ten-step Tai Chi form. It feels hopeful as we find new ways to move girls, women and people who are gender oppressed who are impacted by violence from surviving to thriving. It feels exciting as we envision new pathways of community accountability and restorative justice as alternatives to the criminal justice system. And it feels bold as we move towards equity and liberation for everyone.
It sounds like conversations with community and tribal domestic and sexual violence program members about how we can be on different pathways and moving together towards a shared purpose horizon. It sounds like conversations with organizations working alongside marginalized communities about how we can center solutions to end violence for marginalized populations. It sounds like listening sessions with Native American, Latino and refugee communities, the LGBTQ community, individuals with disabilities, youth in detention and adults in correctional facilities. It also sounds like conversations about the harm our white, heterosexual, male-dominated culture has inflicted on marginalized communities. And it sounds like caring and connection – "what we should know about your community" or "if you really knew me, you would know…"
As we explore the shifts that come with orienting towards a purpose horizon, we look forward to engaging in conversations with all of you about the different pathways towards a world without domination and violence.
Towards thriving,

Kelly Miller
Idaho Coalition Against Sexual & Domestic Violence
In This Issue
Quick Links
Membership Coupon
Reminder that shipping for all material orders made by Programs on the Idaho Coalition website store is FREE of cost, please use the following coupon for all orders.
Join Our Program Member Newsletter Mailing List
Growing and Nurturing Community Partnerships
A few moments into talking about the Stop Violence Against Indian Women Program, Bernie LaSarte, Executive Director, shares how excited she is about the energy their program has devoted to building partnerships within the community. How the work and energy their staff has spent building strong relationships within the area has directly impacted individuals who were sexually assaulted in their communities. After many years of working to help individual survivors, Bernie explains that in 2010 the Stop Violence Against Indian Women Program received funding that allowed the program to leverage work they were already doing to greater scale.
With the creation of the Sexual Assault Reponse Team (SART), "a multidisciplinary team who comes together to form a coordinated response to individuals who were sexually assaulted both off and on the Coeur 'd Alene Reservation (including counties of Kootenai and Benewah)", Bernie and her staff were able to foster partnerships they had been working so hard to grow all these years. They built a team of organizations and people who have "a strong knowledge base of their communities, who know how and/or are willing to work with native peoples and the tribe, and who have direct knowledge how systems, which survivors will directly interact with, work."
Bernie knew that "if you're not from the area, you may not know how to work with the tribe." You may not know that "when tribal survivors go in for exams to the medical center, there will always be an FBI agent present because of jurisdictional issues." Nursing staff, ER staff, and others may not be aware of this condition , but "when you form relationships, when you cross-train and take the time to build a foundation made of mutual respect," you become a community that learns from each other, a community who is better able to serve survivors because of each other. There is a lot of "ground work that goes into making a successful partnership" you must take the time to teach each other, learn from one other, challenge and "listen to each other." The investment that their collaborative has made has given them the tools and partnerships to do better work on a larger scale for " the good of our programs and for those we serve."
When asked for an example of how these partnerships have helped individuals who were sexually assaulted and are seeking help in the area, Bernie immediately highlights the strong relationship they have built with another local program. Safe Passage in Coeur d'Alene (formally North Idaho Violence Prevention Center), is a member program that "they can count on to provide immediate response to a survivor, in the case that an advocate from the Stop Violence Against Indian Women Program unable to make it up to Coeur d'Alene immediately." Bernie says that "they can call Safe Passage who will send an advocate immediately in our place to best serve the person directly." She explains that this trust and confidence goes both ways, if Safe Passage has a "native survivor who prefers a native advocate, they are able to call our program, again to best serve the person directly."We are always asking ourselves: "How we can work together to bring about the best possible outcomes for individuals who have been sexually assaulted? How we can prepare ourselves to best service our community?" After speaking with Bernie and hearing about all the work they are doing, it is clear that they have become a connector and a very valuable resource for their community. Bernie ends by saying "we can't do this alone, we have to work together. I know that we need other programs support and that they need ours. We cannot silo ourselves."
SART Collaborative:
Coeur d'Alene Tribe STOP Violence Against Indian Women; Kootenai Medical Center; the North Idaho Child Advocacy Center; Safe Passage; the Federal Bureau of Investigation SSRA; U.S. Attorney's Office; Coeur d'Alene Tribal Prosecutor; Kootenai County Prosecutor; Coeur d'Alene Tribal Police; Hayden, Post Falls, Rathdrum, Spirit Lake, and Coeur d'Alene Police; Kootenai County Sheriff

Legislative Ups and Downs: Re-envisioning Solutions to Gender Violence
This spring, we as a movement had much to celebrate in the realm of legislative outcomes.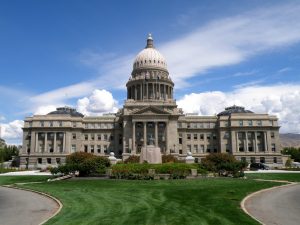 Our allies in both the House and Senate have continued to show up for individuals and communities impacted by violence. We saw positive changes in both the criminal and civil options available to women, girls, and all genders directly impacted by sexual assault and stalking. And while we allow ourselves to feel some relief at these victories, we must stay vigilant about the many solutions needed by those we serve and stand with. While we continue to support our champions, we must also turn towards the conflicts which remain in the State Capitol and impact all Idahoans – some much more than most.
All too often, our view of these outcomes is focused on broad, system-based solutions which were envisioned with the mainstream in mind. These outcomes nearly always leave behind our fellow Idahoans living at the margins. As we turn from surviving to thriving, our movement has an obligation to embrace every Idahoan's right to thrive.
Once again this year, legislators chose not to stand with all genders and orientations and refused to "Add the Words" – sexual orientation and gender identity – as protected groups under Idaho's Civil Rights Amendment. In other words, we still live in a state where only heterosexual men and women are protected from discrimination in every form. Gender discrimination and oppression of any kind paves the road to gender violence. The message we heard, once again, was that only certain Idahoans should be allowed to thrive in our state.
Learn how you can align with this movement and stand with all Idahoans.
Leaders in our state also turned away from nearly 55,000 Idahoans who remain medically uninsured, by refusing to "Close the (Medicaid) Gap." For our state, this means many will continue to suffer – and many will die – due to unequal access to health care. Unequal access to healthcare directly impacts women, girls, and people oppressed because of their gender the most – especially those impacted by violence. As Rabbi Dan Fink recently shared with all of us: "This is not just bad policy — it is moral bankruptcy." Our leaders have stated loud and clear that not every Idahoan deserves the opportunity to thrive.
Click here for more information on this injustice.
Thirdly – and this is not an all inclusive list – our legislature intentionally ignored all Idaho workers living in poverty by refusing to update an historically low minimum wage. There is not one legislative district in Idaho or in any state where a person can survive on minimum wage. Economic injustice is one of the most significant weapons which perpetuate gender violence. Women, girls, and people of all genders impacted by violence are often trapped due to financial pressures. Our leaders have not only condoned "moral bankruptcy" but literal bankruptcy and poverty. We have yet again been told that only some Idahoans will be allowed to thrive.
Join the movement for economic justice in Idaho.
As the season turns away from the legislative session, let us all as a movement turn towards our charge to stand with all Idahoans. Our movement to end gender violence can only move forward with all of us.
Bryan Lyda
Did You Know Your Relationship Affects Your Health?
Women who experience domestic violence often experience reproductive coercion as well. In fact, reproductive coercion is so common that programs around the country are beginning to incorporate routine health assessments into their intakes and make pregnancy tests and emergency contraception available onsite. Reproductive coercion can have major, life-long consequences for women and their children, ranging from economic instability, stress related illnesses, sexually transmitted infections, and other serious medical complications resulting in disability or even death. Bottom line, it can significantly impede her path from surviving to thriving. Many women don't realize there is a name for what is happening to them, and that they are not alone in this experience. If we aren't asking her about her experiences with reproductive coercion, or at least providing accurate information, who is?
Whether we start by providing education and referrals to health providers, or we provide more in-depth screening, resources on-site, and warm referrals, by bringing up the conversation, we can help reduce harm and increase safety. Let's bring reproductive coercion out of the shadows and help survivors take back control of their health!
The following are some screening questions found on the free Education and Screening Trifold Card: Did you Know Your Relationship Affects Your Health?
Does my partner mess with my birth control or try to get me pregnant when I don't want to be?
Does my partner refuse to use condoms when I ask?
Does my partner make me have sex when I don't want to?
Does my partner tell me who I can talk to or where I can go?
Am I afraid to ask my partner to use condoms?
Have I hidden birth control from my partner so he wouldn't get me pregnant?
Has my partner made me afraid or physically hurt me?
There are also harm reduction strategies listed on the card (ways a woman can take control without her partner knowing), hotlines, and suggestions to work with a health provider on harm reduction. The majority of Public Health Clinics in Idaho, and many other providers have been trained to assist women with this issue.If you're interested in learning more, check out webinar information in the right side information box of this article.
To learn more about training on integrating health into domestic violence and sexual violence programs, contact Melissa Ruth.
To order cards, including culturally specific, adolescent, and reproductive health, and other resources: http://www.futureswithoutviolence.org/?s=safety+card
Melissa Ruth, MS, LCPC
Register Now
Addressing Reproductive Coercion in Advocacy
Wednesday, April 20, 12:00 pm MST/11:00 am PST
This webinar will provide an overview of reproductive coercion, how it impacts health, and simple ways advocates can provide information and basic screening. Harm reduction strategies will also be discussed.

Radical Self-Care
Practice 20-20-20 Vision
How long have you been sitting there staring at your screen? How are your eyes doing right now? Many of our jobs require us to stare at a computer for a good chunk of the day. When we get into this zone, we begin to over-tax our mind and body which leads to a diminishing return on our productivity.
Today's Challenge
Set a calendar reminder or alarm on your phone to look away from the computer screen for 20 seconds every 20 minutes. You should try to focus on something at least 20 feet away. This will give your eyes a chance to re-lubricate, your mind to rest, and your body to notice any physical needs you might be ignoring (gotta pee?). Does the idea of looking up from your computer every 20 minutes sound disruptive to you? Here's the thing: we need to disrupt this habit which is causing us to work in a less-than-productive way. Work smarter. Not harder.
Deepen Your Practice
When you look up and out, notice one thing that you never noticed before. How long has that building been there?
It's not too late to join our MEV directed self-care challenge! Check out previous prompts below:
Prompt 2: Stay Hydrated Regularly… With H2O!
Idaho Victim Assistance Academy – IVAA
The Idaho Victim Assistance Academy is a unique academic
opportunity involving multi-disciplinary professionals learning and leading together to better serve the needs of Idaho crime victims. This year's Team Academy is for professionals working with crime victims and will be held Tuesday June 7th – Thursday June 9th 2016 on the campus of Boise State University.
The IVAA is a theory-based academic curriculum. Individuals must apply in a team of 3-5 individuals comprised of individuals working together in their community on behalf of crime victims. Preference is given to multidisciplinary teams that are inclusive of organizations working alongside underserved populations (based on ethnicity or race, individuals with disabilities, and individuals who identify as LGBTQ).
Applications can be found on the Idaho Coalition website.
REMINDER: Applications are due TOMORROW, April 15th, 2016
Webinars, Training, Learning Communities, and Events
North Idaho Advocacy Learning Community

April 26th at 10: 00 am (PST) – 4:00 pm (PST)
Coeur d'Alene Fire Station – 1500 N 15th Street
This Surviving to Thriving Learning Community will focus on the essentials of advocacy and trauma informed practices. We welcome advocates of all experience levels and value this time to learn with and grow in our shared community
Addressing Reproductive Coercion in Advocacy Webinar
April 20th at 12:00 pm MST/11:00 am PST
This webinar will provide an overview of reproductive coercion, how it impacts health, and simple ways advocates can provide information and basic screening. Harm reduction strategies will also be discussed.
2016 National Latin@ Network Institute: Strengthening Our Communities
June 20-22, 2016
Denver, Colorado
In June 2016, Casa de Esperanza's National Latin@ Network will bring together professionals from a variety of fields for the National Latin@ Institute. This Institute will provide participants with significant opportunities for networking, resource and expertise sharing and critical discussions on traditionally challenging topics. The event is conceived for all Latin@s and their allies working together to end family and community violence, gender-based violence, and other forms of oppression.
DEADLINE for request for bilingual advocate to attend is April 14th.
Send all requests to Kelly Miller.
Power of Words Poetry Slam
April 21, 2016 at 7:00 pm (MST) – Doors Open at 6:00 pm (MST)
Egyptian Theatre