March 31, 2016
As we approach Sexual Assault Awareness Month, the harmful comments by the Bingham County Sheriff claiming that the majority of reported rapes are actually consensual continue to make
national news
and were recently the
focus of comedian Samantha Bee
.
These comments are contrary to any national research, and contribute to the harmful messages which silence all individuals impacted by gender violence, especially those who are most marginalized. They are directly linked to Idaho's larger landscape that devalues girls and women and people who are gender oppressed. Gender bias impacts how we think about and respond to gender violence.
In Idaho, people are further marginalized and silenced due to oppressions based on race, ethnicity, national origin, disability, age, sexual orientation, and immigration status. These oppressions create significant barriers to safety, healing and accountability for historically marginalized populations who experience disproportionate rates of gender violence. And we need to build the skills to see people in the entirety of their lived experience and reject a hierarchy of oppressions.
We have much work to do. Just recently in our state, a transgender man who is blind was being transported to a medical appointment by a driver from a Medicaid transportation company. During the transport, the driver parked the van, physically blocked him from exiting, took his keys, and proceeded to rape him. Having no knowledge of the location or the exit routes from the van, the safest option available to him based on the knowledge he had was to undergo the rape. "As a result of being blind it was safer to stay in a vehicle with the perpetrator than risk further injury by running without useful mobility aid," said the survivor. Rape should never have to be the safer choice. In another instance, a man broke into the bedroom, raped and impregnated a young high school student with an intellectual disability. Finally, a drug dealer raped a fourteen year old who had been running away in response to the ongoing domestic violence in the home, and then introduced her to methamphetamine immediately after the rape. The girl was subsequently arrested and detained for her methamphetamine use – no one ever had asked her what had happened to her.
Each of these individuals deserves to be heard, believed, and validated. What is unacceptable is that as of today, there has been no criminal justice prosecution in any of these acts of rape. Our movement in ending gender violence must reach, support, and stand with these individuals and communities. We need to re-imagine solutions that can provide community healing and community accountability for the most vulnerable and the most marginalized in our state. Earlier this week, Bea Hanson, Principal Director, Office on Violence Against Women, said that "people at the margins need to be at the center of our work." We need to follow this lead in Idaho, striving in our communities to ensure we reach those most in need, and create solutions that provide healing and accountability for everyone.
Towards thriving,
Kelly Miller
Idaho Coalition Against Sexual & Domestic Violence
In This Issue
Quick Links
Membership Coupon
Reminder that shipping for all material orders made by Programs on the Idaho Coalition website store is FREE of cost, please use the following coupon for all orders.
Join Our Program Member Newsletter Mailing List
2016 Idaho Legislative Session
The Idaho Coalition had significant success during the 2016 Legislative Session on a sexual assault kit texting bill, a stalking civil protection order bill, and revisions to the rape statute. We thank our sponsoring legislators Rep. Melissa Wintrow for her leadership on the Sexual Assault Kit Testing bill and Senator Grant Burgoyne for the Stalking Civil Protection Order as well as the Idaho Criminal Justice Commission for their collaboration on the revisions to the Rape Statute.
Here is an overview of the legislation that was passed by the Idaho Legislature and signed into law by Governor Otter.
Sexual Assault Kit Testing – House Bill 528 addresses barriers to low reporting rates of sexual assault by testing sexual assault kits to identify an unknown perpetrator and/or confirm the presence of a known assailant and corroborate the victim's account of the rape and by building public trust and confidence in the criminal justice system by ensuring accountability for the testing of sexual assault kits. Most importantly, individuals who are raped have the ability to opt out of testing and will receive written notification about the process. The Idaho Coalition will work with key stakeholders in the development of protocols.
Stalking Civil Protection Order – Senate Bill 1373 creates a civil protection order for victims of stalking. While approximately 50% of individuals who are stalked are in a current or former intimate partner or dating relationship with the stalker, 50% of stalking victims are not in a relationship and therefore do not meet Idaho's current eligibility requirements for a civil protection order. The Idaho Coalition will be working with the Supreme Court on the creation of this form and will provide our member programs with a webinar on the civil protection order, once the form has been approved and is available for petitioners.
Sexual Assault Statute Revisions – House Bill 580 eliminates the gendered language of rape, so that both females and males can be victims of rape and most importantly eliminates the resistance requirement in the current statute by adding: "Where the victim is prevented from resistance due to an objectively reasonable belief that resistance would be futile or that resistance would result in force or violence beyond that necessary to accomplish the prohibited contact". This provision takes into account what we know about trauma and the effect it has on individuals who are raped.
Safety Strategies with Children
Safety strategies for emergencies including
fire, weather, a parent or caregiver being detained, injured or delayed, or staying safe around someone who uses violence in the home can be very helpful for children. When someone in the home uses violence, we do everything we can to keep children safe. But it's also important to help them feel empowered to know how to seek help and safety as well.
Some things to consider are:
Keep details simple to remember, such as where to go and who to call
Teach children their full name, phone number, and address
Teach children the name and phone number of at least one other trusted adult
Practice the strategies as often as they need to remember it. Putting it into a song or rhyme can help them remember it too.
Help children locate phones, exits, and safest places to be in the home.
Emotional Safety is Important Too! Teach children that…
Adults using violence is never children's fault.
No one deserves to be hurt for any reason.
It's good to talk to supportive adults about their feelings.
It's okay to have strong or mixed feelings, even about their parents or caregivers.
There is always a way to solve a problem without violence or hurtful words.
How Can I Support a Parent or Caregiver Today?
Ask the parent or caregiver what they need
Remind kids to ask the parent or caregiver for permission – this models respect
Make time for the parent/caregiver and kids to have fun together
Remember that parenting and dealing with domestic violence is hard – especially in shelter
Additional Resources
Parent Helpline: 1-855-4A-PARENT (1-855-427-2736)
Child Help: 1-800-4A-CHILD (1-800-422-4453)
Children's Books
Melissa Ruth, MS, LCPC
Register Now
Addressing Reproductive Coercion in Advocacy
Wednesday April 20, 12:00 pm MST/11:00 am PST
This webinar will provide an overview of reproductive coercion, how it impacts health, and simple ways advocates can provide information and basic screening. Harm reduction strategies will also be discussed.

PREA- Prison Rape Elimination Act
The Prison Rape Elimination Act (PREA) was passed in 2003 with unanimous support from both parties in Congress. The purpose of the act was to "provide for the analysis of the incidence and effects of prison rape in Federal, State, and local institutions and to provide information, resources, recommendations and funding to protect individuals from prison rape." (Prison Rape Elimination Act, 2003).
The act also created the National Prison Rape Elimination Commission and charged it with developing draft standards for the elimination of prison rape. Those standards were published in June 2009, and were turned over to the Department of Justice for review and passage as a final rule. That final rule became effective August 20, 2012.
The Idaho Coalition has been working with the Idaho Department of Corrections and the Idaho Sherriff's Association on implementing PREA standards through Idaho's correction facilities. Earlier this year, Governor Butch Otter announced Idaho's intention to work toward PREA compliance.
The Idaho Coalition has provided training to the PREA coordinators at Idaho's correctional facilities on how to identify and respond to sexual violence.  National research shows that more than 200,000 individuals throughout the United States' correction system report some form of sexual victimization during their incarceration period. Research also shows that perpetrators are just as likely to be staff at correctional facilities as it is to be another inmate. The most vulnerable inmates are usually: women, individuals with mental illness, previous survivors of sexual abuse, individuals who identify as LGBTQ and sex offenders.
PREA Standards can be found here. There are separate standards for prisons and jails, for lockup facilities, for community confinements and for juvenile facilities. All facilities covered under PREA must be audited at least every three years to be considered complaint with PREA standards. Audits are conducted using an instrument developed by the PREA Resource Center in conjunction with the Department of Justice. You can find the audit instruments here.
The National PREA Resource Center has excellent webinars, curricula and model policies available on their website, www.prearesourcecenter.org  If your organization is working with your local correctional facility on implementing PREA standards and you would like more information or assistance, please contact Jennifer Landhuis.. The Idaho Coalition will continue to provide updates on the cooperative efforts with the Idaho Department of Corrections and Idaho Department of Juvenile Corrections as we continue to work together.
For 13 years this tasty meal has helped raise money for the YWCA Lewiston-Clarkson.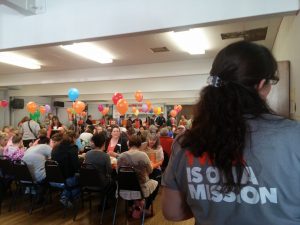 SOUPport Our Shelters was dreamed up after attending a meeting and learning of the success a Montana program had after launching their fundraiser. The program served 100 bowls of soup, made about $1000 and appeared to be the "perfect size fundraiser" for the YWCA and the Lewiston-Clarkston area.
Many years later the YWCA will tell you that "building a strong community of support" has become the heart of this event. Talking with Sylvia Evers, their Executive Director, you begin to understand how treasured this afternoon is to their community—reflected yearly by the broad communal backing and enduring partnerships they have established.
When asked why Sylvia thought the event had such success at bringing people together she said "it's a feel good fundraiser." "It's really hard when you're dealing with domestic violence. One of our goals is to get people into our building, to show them that we aren't scary." Sylvia remarked that "once they've been in the space people are opened up to our location." The visit makes the YWCA familiar and the work they do less intimidating; it is also a great way to get first-timers engaged and leads people to experience a deeper connection with their mission and the work that they do.
The annual SOUPport Our Shelters takes place the final Friday in February each year from 11-1:30pm. Volunteers and event sponsors lead by dedicated staff help with the following: fund the purchase of the ceramic bowls, prep bowls for kiln, hand-paint 1000 souvenir bowls, local police and fire fighters prepare and serve the soups (minimum of six soups), donated water and soda, 10 sets of two teams deliver orders to local businesses, and many other people are behind-the-scenes working throughout the year to make this event a success.
Guests who attend (and businesses with seven orders or more who request delivery) select a hand-painted souvenir soup bowl along with their choice of soup, bread, cookie, soda or water—all for $25! this year the YWCA delivered to over 55 businesses (550 bowls) and served 437 bowls at their location. The first year they sold "183 bowls and made the soup [themselves]"; this year's event sold 987 bowls and made $23,000! "It doesn't start out this big, but as you build the community around you it grows."
As Sylvia nears the end of her incredibly successful work as the Executive Director of the YWCA Lewiston-Clarkson, we asked for her to leave us with some advice and she conveyed the following: "you cannot balance the budget on the backs of your staff." Going to meetings, she remembers people saying "you can't afford to give health insurance to the staff" and she would respond "we can't afford not to do health insurance!" "We are a service organization and it takes people to do this work. You need to treat your staff well, as they are your most precious resource." With many long term staff members, Sylvia credits the organizational environment and policies of their program. "You have to be fair with your staff, if you have a vacation policy or a sick policy you can't have staff that are afraid of taking these days to care for themselves. Staff should never be afraid to use their benefits." She says, this is "especially true in a human services program, you have to make time to be out of the office. You have to take care of yourself." You have to make it part of your staff's work and part of your work—don't be afraid to remind them "it's part of your work! Take care of you."
Radical Self-Care
Hydration is one of the simplest,
yet most essential things you can do for your self-care. We're sure you already know how good water is for you, that it boosts your energy, and helps with digestion. But did you know that:
85% of your brain tissue is water!
If you're dehydrated, your mind and body are like a car running on empty.
Again we would like to encourage you to participate as a staff and to share your experiences with us via email.
It's not too late to join our MEV directed self-care challenge!
Prompt 2: Stay Hydrated Regularly… With H2O!
Idaho Victim Assistance Academy – IVAA
The Idaho Victim Assistance Academy is a unique academic
opportunity involving multi-disciplinary professionals learning and leading together to better serve the needs of Idaho crime victims. This year's Team Academy is for professionals working with crime victims and will be held Tuesday June 7th – Thursday June 9th 2016 on the campus of Boise State University.
The IVAA is a theory-based academic curriculum. Individuals must apply in a team of 3-5 individuals comprised of individuals working together in their community on behalf of crime victims. Preference is given to multidisciplinary teams that are inclusive of organizations working alongside underserved populations (based on ethnicity or race, individuals with disabilities, and individuals who identify as LGBTQ).
Applications can be found on the Idaho Coalition website.
"Expanding Healthy Moms/Happy Babies: Spotlight on our New Young Mothers Safety Card" Webinar
Brought to you by
Defending Childhood
in partnership with the Office of Juvenile Justice and
Delinquency Prevention
and
Futures Without Violence
.
Date: Friday, April 8th, 2016
Time: 12:00 pm – 1:30 pm MST / 11:00 am – 12:30 pm PST
Please click here to register now!
Webinar Description: Futures Without Violence is delighted to announce a new adolescent focused module for its recent 2nd edition of Healthy Moms Happy Babies (HMHB): A Train the Trainer Curriculum on Domestic Violence and Reproductive Coercion.
While the new module is part of a home visitation curriculum, it can support any program working with young mothers that hopes to help promote conversations about healthy and safe relationships and ones that are not, how abuse can affect health including substance abuse risks, and provides simple safety planning and hotline referrals.
In addition to supporting providers' conversations about relationships, the safety card also functions as an empowerment tool for teens.
After this training, participants will be better able to:
Identify two barriers to providers, including home visitors and other doing domestic violence assessment with clients.
Describe why universal education using the Young Mom Strong Kids (YMSK) safety card is important for helping clients experiencing domestic violence.
Understand why the YMSK safety card is an empowerment tool for youth.