October 17, 2019
Civil Legal Services Available Through the Idaho Coalition
The Idaho Coalition continues to receive funding to provide civil legal services for survivors of sexual violence; these services are available throughout Idaho. Services available include those that will enhance survivor safety and privacy, ensure access to education, and help survivor's navigate complex immigration, housing, public benefit, employment, and criminal justice system involvement related to victimization. Services provided in any given case are based on each individual survivor's needs at that point in time. While our priority remains serving survivors ages 11-24, we have received a new source of funding that allows us to work with adults outside of the priority age range.
In addition to provision of comprehensive services for survivors of sexual violence, this new funding source also allows us to provide brief in-person or phone-based consultations for survivors of domestic violence, dating violence, and stalking. Brief services will include exploring legal options and providing referrals as appropriate and requested.
As a part of continuing to improve legal services and connect survivors the Idaho Coalition legal team will develop a community-specific outreach plan in the coming months. We may contact you for a brief consultation on your community's resources, needs, and places to advertise services.
To find out more about this program, or to make a referral, please contact Annie at annie@engagingvoices.org or by calling (208) 384-0419 x 303.
Annie Pelletier
annie@engagingvoices.org
Three Things to reach out to me for:
Legal Questions
Legislative Updates
Sexual Assault/Title IX
Do you know about your local elections?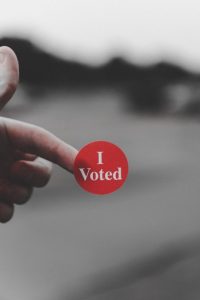 While most folks are focusing on presidential elections, there are local elections happening this November that impact our daily lives. Voting is one of the most impactful and transformational ways to ensure our voices are being heard and that our work to interrupt and end gender violence is addressed in our local communities.
Election day is on Tuesday, November 5th, and depending on your city or town, there will be different offices or ballot initiatives on the ballot. To get more information on who is running in your community, contact your county clerk. Information for all county clerks can be found here: https://idahovotes.gov/county-clerks/
It's also important to remember to check that your voter registration is up to date. Things like changing your name or moving would require you to update your registration. You can check that status of your registration or register to vote here: https://apps.idahovotes.gov/OnlineVoterRegistration
But don't worry if you miss the October 11th deadline to pre-register to vote, Idaho has SAME DAY voter registration, meaning that on election day, you can go to your polling location (8:00 AM – 8:00 PM) and register to vote that same day prior to casting your ballot. More information on what you need to bring can be found here: https://idahovotes.gov/media/voter_registration.pdf
And if you prefer to vote from home, or if you know you'll be out of town or unavailable to vote on the 5th of November, you can request an absentee ballot to be mailed to you OR you can vote EARLY at your county clerk's office. The last day to request an absentee ballot is October 25th and your county clerk will have more details on in person early voting.
Finally, make a plan on how you're going to vote! Do you have answers to the following questions:
How do you plan on voting? (Early by mail, Early in person, on election day?)
How do you plan on getting to your polling location? Walking, biking, driving, carpooling?
When will you be voting? After work, before work, during lunch?
Ask your family, friends, and neighbors these questions too. Having a voting plan increases the chances of folks turning out!
If you have more questions about voting, please feel free to reach out, or check out the FAQ page at Idaho Votes.
In solidarity,
Jen
Jennifer Martinez
jenniferm@engagingvoices.org
Three Things to reach out to me for:
Rural Grant
Grassroots Organizing
Social Media and Technical Communications
Change to Idaho Code 39-1390 — "Reporting" of ANONYMOUS ADULT Sexual Assault Medical Forensic Exam
As of July 1, 2019, there was a change to Idaho Code 39-1390 — Medical staff are NOT required to "Mandatory Reporting" of ANONYMOUS ADULT Sexual Assault Medical Forensic Exam.
This change in law has no impact on current practices with minors. Mandatory reporting continues to be required in all cases involving minors.
Please click the following link to view a memo for more information and clarification.

Healing: The Act of Radical Self-Care
As advocates who are committed to the hard work in centering the lives of survivors and children, we know this work can feel overwhelming, and at times, discouraging. Similar to the natural course of nature in upcoming Fall season, we know Mother Nature pauses and sheds to create new life. And we invite you to also take time to stop and reflect on this year. Take a few seconds to breathe in this process—big deep breaths.
What did the year reflection feel like for you? What was coming up for you in your body? When was the last time you paused, re-centered and re-grouped your feelings and thoughts? How are you practicing self-care and sharing it with those you work alongside with throughout the year?
If you are drawn to know more about how you can do more simple acts of healing at work, at home and in your community to avoid burn-out, we want you to join us in sharing a space together were can create hope, connection, and resiliency to a one-day Radical Self-Care and Healing Gathering that will take place Wednesday, October 30, 2019 in Boise, Idaho at the Linen Building from 8:30 am – 4:00 pm. A Member Program Connection Lunch & Meeting will also be held on the afternoon of October 29th from 1:00 pm to 5:00 pm. This meeting is an opportunity for you to connect with other tribal and community DV/SA member program advocates and executive directors, share 2019 program highlights, and identify areas of support. Lunch will be provided from 1:00 pm – 2:00 pm.
To register, click here.
During the gathering on the 30th, "Dr. Joi" Lewis and Jasmine Boudah will draw on the wisdom of the community to co-create a blueprint for wellness against the backdrop of racism and intersection with other forms of oppression-induced trauma: creating healthy boundaries, and healthy expressions of grief, pain and joy that allow us to heal and fall in love with our community and ourselves more deeply—or for the first time.
Together we will learn practices and tools on how to get grounded and present and on how to get unstuck that frees us from past and present toxic stress and trauma. We will also receive tools and information on how parents can talk to their children about things that matter, learn the impact that domestic violence has on children and on the parent-child relationship.
As an appreciation to all the work you do, we will gift a copy of Dr. Joi Lewis' book, Healing: The Act of Radical Self-Care to all those who join us at this gathering! In this book, she introduces the Orange Method Approach that encourages us to play hard, think smart, get dirty, sing loud, love openly, eat well, and rest and not give up.
---
About the Presenters:
"Dr. Joi" Lewis is CEO and Founder of Joi Unlimited Coaching & Consulting and The Orange Method of Radical Self- Care (Healing Justice) and Radical Hospitality (Social Justice). She is the is author of the wildly successful book, Healing: The Act of Radical Self-Care. She is a social entrepreneur and a highly sought-after speaker and executive coach. Dr. Joi is (as many fondly call her) is known world-wide as a consultant, space holder. radical-self-care and mindfulness coach, community healer, yogi, facilitator of liberation and social justice activist. She inspires us to hold heartbreak and "joy" as we reach for our own humanity and each other's.
Her work is deeply informed by growing up in East St. Louis, Illinois and is grounded in healing justice. Dr. Joi completed her doctoral work at the University of Pennsylvania, conducted research in South Africa, had a 20+ year career on college campuses as a Dean, Faculty, Vice President and Chief Diversity Officer before founding her wildly successful company, Joi Unlimited, Coaching and Consulting and the Orange Method.
She is an unapologetic joy instigator, a certified kemetic and hot vinyasa yoga teacher, a facilitator of meditation and mindfulness and a food prep pro, living in St Paul, Minnesota. Dr. Joi is on a mission to "put healing in the hands of anyone, anywhere."
Jasmine Tane't Boudah M.Ed, CPE, affectionately known as The Black Lotus Mother, is a wombman, mother of a beautiful warrior princess, educator, community activist, radical doula and revolutionary advocate for Black maternal and mental health, reproduction justice and domestic violence survivors like herself. Her natural birth, breastfeeding journeys invoked a radical advocate who didn't allow white supremacy, racism, ignorance, historical trauma or domestic violence to stop her in her pursuit to serve as a community doula and peer breastfeeding mentor to those in her community. She is the founder of Ubuntu Minneapolis, LLC, the co-owner of H.E.R Black Lotus Healing Collective, LLC in Minneapolis and the author of Mothering Through Pain and Suffering in Silence: A Collection of Stories From Survivors. All of the community efforts she has led has kept wombmen and children at the center of her work because she believes we cannot be liberated while wombmen and children are oppressed. By taking a two-generational approach to healing and understanding Adverse Childhood Experiences (ACEs) we can truly lift as we climb and restore our nation. Healing the village is at the core of her Divine purpose her tribe is doing it one mama and breastfed baby at a time. UBUNTU!
Resource Share | New Video Series from the National Health Resource Center on Domestic Violence
Voices from Our Movement: a 3-part video series on ending racism and oppression as the heart of our anti-violence movement.
Across the country, domestic and sexual violence advocates are working to address the ways that racism and oppression impact survivors' health and self-determination. They are thinking about how history impacts peoples' lived experience of violence today in our world; they are shifting advocacy practices to better meet the needs of survivors and advocates of color; and they are looking at how the anti-violence movement can resist racism and oppression as one of the most important ways to prevent violence.
The National Health Resource Center on Domestic Violence sat down with a few of the advocates who are knee deep in this work to learn about their perspectives, stories, and strategies. They have compiled what these advocates shared into a short, 3 part, videos series in hopes that it helps others who are also thinking about these intersections.
Video 1: Connecting the Dots: Racism, Oppression, and Work to End Domestic, Sexual, and Intimate Violence
Video 2: Racism in the Anti-Violence Movement: Impacts on Survivors, Advocates, and Communities
Video 3: Transformation is Now: Toward an Integrated, Intersectional Movement
These videos can be watched on your own, or used to spark discussion in a group! They have included sample discussion questions + facilitator's tips, a glossary of terms, video transcripts, and a small next steps resource guide which can all be found on their website.
Training & Events
Intermountain Fair Housing Council | Statewide Training Events

Fair Housing Training | Coeur d' Alene, ID
October 24, 2019 | 10:00 am – 4:00 pm
Coeur d'Alene, Idaho
Register now
Community Members, Housing Providers, Advocates, Government Personnel, and Attorneys encouraged to attend.
---
Register Now! | Collective Thriving
Wednesday, December 4 – Thursday, December 5, 2019 | Boise State University, Boise, Idaho
Tuesday, December 3rd – Pre-Conference
Reclaiming Our Spiritual, Healing and Ancestral Wisdom in Social Justice Movements
Space is limited
The Idaho Coalition Against Sexual & Domestic Violence invites you to join us at Collective Thriving (previously Compassionate Communities), a conference where we will explore ways to repair the harm from our culture of domination, extraction, and violence and to re-imagine a world rooted in interdependence, resilience, and regeneration.
Registration is now open. Register here today.

Idaho Coalition Store Materials
Reminder that shipping for all material orders made by Programs on the Idaho Coalition website store is FREE of cost, please use the below coupon for all orders.
Visit the online store to view current Idaho Coalition materials available for order. For store questions, please contact Lacey Sinn.
Coupon Code
Membership