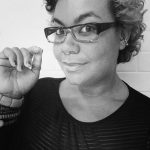 adrienne maree brown
 – is a writer, facilitator, and activist living in Detroit.
In 2017, she published
Emergent Strategy: Shaping Change, Changing Worlds
, which has already shifted movement thinking locally and internationally. She is the is the co-editor of
Octavia's Brood: Science Fiction from Social Justice Movements
, and a regular contributor to national publications, task forces, and coalitions. adrienne is obsessed with learning and developing models for action, community strength, movement building and transformation.
Amita Swadhin, MPA
 – is an educator, storyteller, activist and consultant dedicated to fighting interpersonal and institutional violence against young people stemming from their experiences as a genderqueer, femme queer woman of color, daughter of immigrants, and years of childhood abuse by Amita's parents, including eight years of rape by their father. Amita is founder and president of Mirror Memoirs, formerly the Los Angeles Executive Director of Peer Health Exchange and Interim Executive Director of API Equality-LA, which builds power in the Asian and Pacific Islander community to achieve LGBTQ equality and racial and social justice.
Andrew Sta. Ana, JD
 – coordinates Day One's direct legal services program and provides advocacy and direct representation in cases concerning family law, immigration, and criminal justice. Andrew works to protect the rights of young survivors. His practice emphasizes community partnership, cultural competency, and an analysis that centers the experiences of youth and survivors of intimate partner violence. Andrew has enriched the work of advocates around the country by training thousands on legal remedies for survivors of intimate partner violence, LGBT rights, and cultural competency.
Archi Pyati, JD
 – is the Chief of Policy and Programs at the Tahirih Justice Center, leading national advocacy initiatives and mobilizing diverse coalitions to press for laws, regulations, and policies that better protect immigrant women and girls from violence. She oversees Tahirih's holistic legal services programs, serving more than 1,400 individuals per year and supports Tahirih's Forced Marriage Initiative. Prior to joining Tahirih, Archi served as the Deputy Director of the Immigration Intervention Project at Sanctuary for Families in New York.
Bryan Lyda
– Bryan is a cultivator and a rule breaker who believes that everyone should be able to be who they want to be and live the life they choose without limits. Through the Idaho Coalition Against Sexual & Domestic Violence, he works to connect people and communities, and challenge them to show up for justice and liberation. Bryan strives to use compassion and courage to act in solidarity for any community who has been silenced, harmed, or oppressed. While gardening and exploring Idaho are his sources of light, he chooses to take many paths in life and hopes at least a few of them are made of dirt.
Chelsea Gaona Lincoln
 – has worked in the mental health field for nearly 14 years, currently as habilitative interventionist working with children with cognitive disabilities. Chelsea is enjoying the transition from therapist to independent contracting as a facilitator and organizer. She met her now wife Evangeline while working state wide on queer justice issues. They married in September of 2016 and reside in Caldwell Idaho, a city that still lacks projections from discrimination of LGBTQ people in housing, employment and public accommodations. They are lucky to share a passion of political and community activism. When they aren't working or traveling you can find them cuddle puddled with their four senior dogs or hanging with Chelsea's family, especially her 89 year old "grams."
Dana Gover, MPA
 – has been the American with Disabilities Act (ADA) Training & Technical Assistance Consultant for The Northwest ADA Center-Idaho since 2012. She provides information, guidance, training, onsite reviews, and technical assistance on the Americans with Disabilities Act and other civil rights laws providing rights to people with disabilities. She works closely with the Idaho Centers for Independent Living and in partnership with a number of Federal, state and local entities including the US Attorney, Intermountain Fair Housing Council, Idaho Housing Forum, Idaho Commission on Human Rights, HUD, Vocational Rehabilitation, and Idaho universities on ADA, 504, and fair housing compliance. She helped write the 504/ADA training manual for the Department of Commerce, Community Development Block Grant program and has worked with transportation providers to increase access to riders with disabilities. Dana is a member of the Fair Housing Forum, Consortium of Idahoan with Disabilities, City of Boise Accessible Parking Committee, Member of the Ramp Up Idaho project, Medicaid's Personal Assistance Oversight Committee, member of Living Independence Network Corporation (LINC) Board of Directors, a member of the National Council on Independent Living.
Donna Shines
 – grew up in Caldwell, Idaho. For the past 40 years, through each work experience, she has been drawn to sharing what she knows with others; being a volunteer, a teacher, mentor, friend, and always striving to live a balanced life. She has been involved with Special Olympics, Service Clubs, the YMCA, Court Sports Fitness Center, Caldwell High School and the past 14 years she been blessed to facilitate the ever growing impact of The Mentoring Network, a community benefit organization serving youth with volunteer mentors in a school setting in Canyon & Owyhee county schools. Her personal goal is to explore what is possible in communities that value a culture of mentoring for all community members.
Estefania Mondragon
 – is the Bilingual Social Change Associate/Organizer at the Idaho Coalition Against Sexual & Domestic Violence and a community organizer at the Idaho Organizing Project – DACA Committee. She is a daughter of immigrant parents from Tarandacuao, Guanajuato, Mexico. Her passion for social justice began her junior year of high school and has continued throughout college and into her professional and political life. She is currently working to create better access to resources and services for Latinxs experiencing gender-based violence in Idaho. Her work focuses on building power within and for Idaho's Latinx community through the raising of consciousness and a reconnection to culture.
Gabriela Alor
 – began her legal training and received her law degree in her hometown of Puebla, Mexico. She came to the U.S. 18 years ago, and worked as a legal advocate at DV and sheltering organizations in Texas and Washington State. She worked as an Immigration Paralegal for Immigration Law Firms in the State of Washington. Gabriela obtained her MPA with a Certificate in Management and Development of DV Programs from University of Colorado in 2012. She is currently working with bilingual and bicultural advocates at the Washington State Coalition against Domestic Violence in her position as Program Coordinator of Crossing Borders.
Heidi Lehmann, MPH
– is leading the Lehmann Group, which works toward a world where women and girls are safe from all forms of violence. She has worked in the worst conflict zones and natural disasters in recent history, including Sierra Leone, Liberia, Darfur, Democratic Republic of Congo, Northern Iraq and Haiti. Most recently, she was Senior Director of the Women's Protection and Empowerment Unit at the International Rescue Committee, and taught a course on Gender Based Violence in Complex Emergencies at Columbia University's Mailman School of Public Health.
Jeff Matsushita
– is a father, partner, and believer in change. Since 2004 he has been a member of the Idaho Coalition Against Sexual & Domestic Violence team. The Coalition has allowed Jeff to travel, listen, ask questions, and be a part of the movement to end violence against women, girls and gender non-conforming community members. In this time of movement, Jeff honors individuals' stories, the connection to one another and a solid pick-up game of basketball.
Jennifer Martinez
– began working for the Idaho Coalition Against Sexual and Domestic Violence in November 2016. Jennifer oversees an initiative to increase services for adolescents from historically marginalized communities in rural communities who are abused or sexually assaulted and is part of a cross movement collaborative in Idaho – a Community of Purpose – to build relationships and leverage power for an emergent world. A first-generation Idahoan, Jennifer earned her undergraduate degree from Gonzaga University in 2009 where she majored in Political Science and minored in Latin American Studies. Following graduation, Jennifer worked for U.S. Senator Patty Murray as the Eastern Washington Representative based out of Spokane. In 2012, Jennifer returned home to Idaho to work in the political arena where she held various roles. In 2015, she served as the Organizing Director for the Idaho Community Action Network.
Judith LeBlanc
– is the director of the Native Organizer's Alliance and has been an organizer, journalist, and public spokesperson on issues of economic, social and racial justice for four decades. In the early 1970s, Judith worked on behalf of the Wounded Knee Defense/Offense Committee at Pine Ridge Indian Reservation in South Dakota. In 2002, Judith became a national recognized organizer and leader in the U.S. peace movement as a national co-chair and elected leader of United for Peace and Justice and as National Field Director of Peace Action. Judith is an enrolled member of the Caddo Tribe of Oklahoma.
Kelly Miller, JD
– is currently the Executive Director of the Idaho Coalition Against Sexual & Domestic Violence and an alumni cohort member of Move to End Violence, a 10-year nationally recognized initiative of the NoVo Foundation designed to strengthen the collective capacity to end violence against girls and women. After thirty years in anti-violence work as an attorney, prosecutor, and activist, she has been on a transformational journey that has brought clarity to her purpose of our collective liberation to the last girl and a deep understanding that liberation has to begin with ourselves. She deeply believes that in order to move towards a world that is interdependent, resilient and regenerative, we have to live into that vision ourselves. We cannot become what we cannot imagine.
Kim Camacho, LMSW
– Kim serves as the Violence Prevention and Support Coordinator at the Boise State University Gender Equity Center. Kim offers support to campus members that are impacted by gender based violence as well as campus members from marginalized identities and oversees programs and education at Boise State to prevent violence and advocate for healthy relationships. As a first generation college student, Kim earned her undergraduate and graduate degrees in social work from Boise State University. She became passionate about social justice after serving on the steering committee of Boise State's Martin Luther King Jr. Living Legacy Committee as an undergrad student. Following graduation, Kim worked as a medical social worker for a local hospice agency, assisting patients at the end of life and providing grief support to family members before returning to Boise State in her current role.
Leta Neustaedter
– has been performing in the Treasure Valley for over 30 years as a musician and actor. Leta is also an LCSW and owner of Metamorphosis Performing Arts Studio where she teaches life skills through the performing arts. She's involved with numerous creative projects at any given time, including solo performances, radio drama productions, teaching arts education classes and public speaking workshops, collaborations with refugee storytellers, acting or directing theater productions and reworking her TV show Chill Skillz, which uses a sketch comedy format to teach acting and social skills. She has been facilitating the local Black Lives Matter facebook group and serving on various community boards as a cultural diversity liaison. Whew. Sounds exhausting? That's why she advocates getting the most out of our individual reserves of creative energy.
Mario Pile
 – Mario started his career in assisting troubled teens find a way to a better life in Juvenile Corrections Center-Nampa as a Rehabilitation Technician. He then moved on to the Idaho Youth Challenge Academy (IDYCA) after learning of the potential he had in helping teens avoid entering the correctional systems. He started with the IDYCA as a Cadre at the school in Pierce before moving into the Admissions Counselor working out of the Caldwell office, which is his current position. Mario has earned a B.A. in Criminal Justice with the focus on Human Services through Colorado Technical University. Furthering his knowledge and skills in assisting in the counseling side of the youth he works with. Mario is happy to have made the Treasure Valley his home and truly enjoys being a part of assisting in the creation of a better tomorrow for Idaho's youth and community.
Marisol Towell
 – Marisol is the legal advocate at Voices Against Violence, a domestic violence & sexual assault program in Twin Falls, Idaho. She has an Associates and Bachelor degrees in Criminal Justice. She was born to Mexican immigrants in Chicago but raised in Idaho. She has worked in the criminal justice system for nearly 10 years. Marisol's passion is working with a variety of people who want their voices heard in the criminal justice system. Many victims of crime will use the courts to help them find safety from an abuser. Her goal is to ensure clients have choices, seek support and information of any court proceeding.
Mel Leviton
 – is the Executive Director of the Idaho State Independent Living Council (SILC), promoting Independent Living across disabilities and lifespan. She has worked with people with disabilities in the private, non-profit and public sectors for more than 20-years. As a person with both visible and nonvisible disabilities, she has firsthand knowledge of the many barriers faced by people with disabilities. Mel advocates for equal access to education, employment, housing, transportation, and public and private services for all people across the disability spectrum. It isn't enough to speak up for others; people must learn to find their own voice, use it, and be supported in the learning and the doing.
Nadiah Mohajir, MPH
 – is the Founder and Executive Director for HEART Women & Girls, leading the organization to provide health education programming to over 5,000 Muslim women and girls in Chicago and across the country; breaking many cultural barriers and raising awareness about important issues such as sexual and reproductive health and sexual violence. Nadiah has been a consultant for the Office on Women's Health at the Department of Health and Human Services focusing on minority health. Prior to her work at OWH, Nadiah worked on a research project focusing on improving pregnancy outcomes of low-income women.
Nancy Egan
 – Shoshone Paiute Tribal member, and former Chairwoman of Duck Valley Indian Reservation, first woman to be elected in 150 years. Nancy, was the Women of Color Alliance (WOCA) President for 4 years and presented workshops on Leadership Development, Internalized Racial Oppression, and Tribal Sovereignty. Nancy's leadership at WOCA, created powerful relationships in Indian Country between disenfranchised women in rural Idaho. Nancy attended the Women's Campaign School at Yale University, where she learn the process of running a success campaign. Nancy also trains for Health and Welfare and the Casey Foundation on "Knowing Me" (un-doing Racism).
Patina Park, JD
 – is Lakota and her family comes from the Cheyenne River and Standing Rock Sioux Tribes. Because of her own experiences as an adoptee, Patina is passionate about issues related to Native American children and families and has led trainings nationwide related to Federal Indian Law, ICWA, historical trauma, and implementing trauma-informed, culturally-responsive programming. Patina is currently the Executive Director of the Minnesota Indian Women's Resource Center, a nonprofit grounded in cultural strengths to heal, preserve, and strengthen Native American women and their families, from the multi-generational and historic trauma experienced from the effects of colonization.
Robin DiAngelo, PhD
 – is a former Associate Professor of
Education, with her scholarship in white racial identity and race relations. Robin has extensive experience as a workplace consultant in issues of race relations and racial justice. She has numerous publications and books, including,
What Does it Mean to be White?: Developing White Racial Literacy
. Her work on white fragility has influenced the national dialogue on race and been featured in
Salon
,
NPR
,
PBS
,
The New York Times
,
The Atlantic
,
Slate
and
Colorlines
.
Rosie Hidalgo, JD
 – is currently the Senior Director of Public Policy for Casa de Esperanza: National Latin@ Network for Healthy Families and Communities, a national domestic violence resource center providing training, research, and policy advocacy. She also works as a Senior Policy Advisor for the National Resource Center on Domestic Violence. Rosie previously served as the Deputy Director for Policy at the Office on Violence Against Women (OVW) at the U.S. Department of Justice. Prior to joining OVW, Rosie served on the ABA Commission on Domestic and Sexual Violence from 2010-2013.
Sameera Qureshi, MS
 – is an Occupational Therapist working with HEART Women and Girls to facilitate sexual health education initiatives within Muslim communities across Canada. Her areas of interest are in curriculum and program development, community needs assessments, facilitation of trainings with adults and youth, and supporting institutions in creating policies and procedures regarding sexual violence. Sameera maintains a blog called "Muslim Sistah" and can be found on Twitter @muslimsistah.
Sonya Rosario
 – is the Executive Director and founder of the Women of Color Alliance (WOCA), a statewide non-profit organization dedicated to working with the leadership who live on Reservations and in rural areas of Idaho, offering trainings on Civic Participation, supporting women running for office; Internalized Racial Oppression, addressing the prejudices that women of color grew up with about each other, creating alliances through understanding; Leadership Development, working and building strength in our communities-home; Sonya is a Filmmaker, Poet, and Writer; her newest project called, the "Sofa Dairies" is dedicated to her mother, Gloria, an activist from San Antonio, TX. Sonya traveled the backroads of Idaho, Oregon and Washington State with a Sofa inside her Chevy van interviewing and photographing women impacted by of our mothers and other women who have influenced them to change.
Toni Brineger
 – Toni Brinegar (formerly Toni Belknap) has had a myriad of life experiences including becoming a wife, mother, employee and business owner. As an only child growing up in rural Idaho, she has always been naturally outgoing and classifies herself as an "uber-extrovert." Her passion is helping people and families with disabilities live the lives that they choose in the way that they choose to live them. She is also passionate about intentionally spending time with people that she wants to get to know better and those she wants to continue relationships with. She lives in Nampa with her husband of 20 years, David, their three children (Antahn, 18yrs; Imani, 13yrs and Dante, 9yrs) and their 2 dogs (Copper, 13yrs and Annabelle 5yrs).
Vanessa Sapien, MA
 – has worked as a film and television actress for over twenty years fighting for accurate portrayals of people with disabilities in media. Vanessa is a member of Just Detention International's domestic programs team. She provides training and technical assistance for corrections staff, advocates, and service providers on how to keep prisoners safe from sexual violence. Vanessa currently offers direct services to incarcerated survivors of sexual abuse.