Plenary Speakers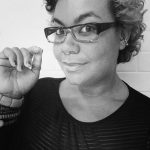 adrienne maree brown
 – is the co-editor of
Octavia's Brood: Science Fiction from Social Justice Movements
, and a writer, facilitator, pleasure activist, coach, healer and doula living in Detroit.
Amita Swadhin
 – is an educator, storyteller, activist and consultant dedicated to fighting interpersonal and institutional violence against young people.
Andrew Sta. Ana, JD
 – advocates for the rights of low wage workers, Asian American and Pacific Islander communities, transgender people of color, immigrants, and survivors of intimate partner violence, enriches the work of advocates around the country on legal remedies for survivors, LGBT rights, and cultural competency.
Archi Pyati, JD
 – is the Chief of Policy and Programs at the Tahirih Justice Center where she spearheads national advocacy initiatives, forging and mobilizing diverse coalitions to press for laws, regulations, and policies that better protect immigrant women and girls from violence.
Judith LeBlanc
– is the Executive Director of the Native Organizer's Alliance. She has been an organizer, journalist, and public spokesperson on issues of economic, social and racial justice for four decades.
Patina Park, JD
 – is currently the Executive Director of the Minnesota Indian Women's Resource Center, a 32-year-old nonprofit dedicated to providing holistic, multi-service programming grounded in cultural strengths to heal, preserve, and strengthen Native American women and their families from the multi-generational and historic trauma experienced from the effects of colonization.
Robin DiAngelo, PhD
 – is the author of
What Does it Mean to be White?: Developing White Racial Literacy and her work on White Fragility
has influenced the national dialogue on race. She was appointed to design the City of Seattle's Race and Social Justice Initiative Anti-Racism training. She is currently a lecturer at the University of Washington.
Rosie Hidalgo, JD
 – is the Senior Director of Public Policy for Casa de Esperanza: National Latin@ Network for Healthy Families and Communities, a national domestic violence resource center with a focus on providing training, research, and policy advocacy.